Heavy Duty Polar Ice Scraper

Our patented ice scraper design has a sleek profile and the largest imprint area in the industry. The modern ribbed handle is reversible so the imprint is always in full view on the front. The heavy-duty scraping blade is molded from 1/4" thick polystyrene. - Mix and Match Handle and Blade Colors to Make your Winter Promotion Dazzle. Price Includes One Color One Location Imprint. - Imprint Method: Silkscreen/ Hot Stamp/ Pad Print. - Custom Colors are available Min. 10 000. Please call for pricing. - This Product is Available for 1 Day Sprint Service Please Call Factory for Quote. - Please specify Grip side Flat side or Blade imprint.

Keywords:America, American, Auto, Automotive, Automobile, Automobiles, Blade, Bladed, Campaigns, Car, Clean, Client, Comfortable, Conference, Convention, Corporate, Custom, Customer, Customize, Dealer, Dealership, Durable, Frost, Frozen, Garage, Gift, Give away, Giveaway, Imprinted, In, Inch, Inches, Logos, Marketing, Mechanic, Personalize, Personalized, Promotion, Remove, Repair, Sale, Scrapers, Seasons, Service, Snowbrush, Snowbrushes, Snowfall, Snows, Storm, Sweeper, Tools, Trade show, Tradeshow, Tradeshows, U.S., U.S.A., US, United States, Vehicle, Vehicles, Wash, Windshield
As low as $1.95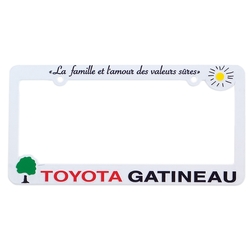 Custom molded license plate frame in durable high-impact plastic with your logo and copy in raised letters. Retaining clips on the back hold the plate firmly in place. Maximum license plate frame is available with either 2 holes or 4 holes

Maximum frame is also available in premium ABS material for added durability. Price includes imprint on top and bottom areas. Custom Colors Available Minimum Order 10 000.

Keywords:Auto, Automotive, Automobile, Car, Campaign, Clip, College, Conference, Convention, Conventions, Corporate, Custom, Customize, Customized, Dealer, Dealers, Dealership, Décor, Decorate, Decorating, Decoration, Decorations, Decorative, Employee, Event, Events, Factory, Factories, Framed, Framing, Fund raiser, Fundraiser, Garage, Garages, Gift, Give away, Giveaway, Hobbies, Hobby, Hobbyist, Hobbyists, Holder, Holders, Imprint, Imprint, Licenses, Logos, Lot, Lots, Manufacture, Manufactured, Manufactures, Manufacturer, Manufacturers, Manufacturing, Market, Marketing, Mechanic, Mechanics, Personalize, Personalized, Plates, Promotion, Promotional, Repair, Repairs, Service, Services, Souvenir, Trade show, Tradeshow, Travel, Vehicle, Wash, Washes
As low as $1.15
Visor Clip Ice Scraper

Molded in durable high impact polystyrene. Product Color is Matte White. Price includes one color imprint.

Keywords:American, Attach, Attaches, Auto, Automotive, Automobile, Blade, Blades, Car, Clean, Cleaner, Cleaners, Cleans, Client, Clips, Cold, Conference, Convention, Conventions, Corporate, Custom, Customer, Customize, Customized, Dealer, Dealers, Dealership, Employee, Frost, Frozen, Garage, Garages, Gift, Give away, Giveaway, Hook, Hooks, Imprint, In, Inch, Marketing, Mechanic, Mechanics, Personalize, Personalized, Promo, Promotion, Removal, Remove, Remover, Removers, Removes, Sale, Sales, Scrapers, Scrapes, Scraping, Season, Seasonal, Seasons, Service, Services, Snowbrush, Snowbrushes, Snowfall, Snows, Snowy, Storage, Storm, Storms, Sweeper, Sweepers, Sweeping, Sweeps, Tools, Trade show, Tradeshow, U.S., U.S.A., US, United States, Vehicle, Visors
As low as 75¢